We dance to a variety of music, including Rock, Country, Latin, Hip-Hop, Pop, almost anything!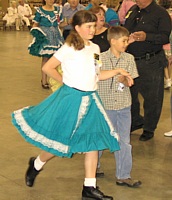 Hyde Middle School
19325 Bollinger Road
Cupertino, California
Calls Taught in this Class
New classes begin at various times during the year. Our most recent weekly class graduated June 2008. If you would like to be notified when the next class will be starting, please send us e-mail.
No experience necessary.
No special clothing needed.
(But wear comfortable shoes.)
You don't need to bring a partner.
Parents can take the class too!
Information about past classes.